Last weekend, we ventured up to North Alabama, because Drew was competing in State Cup Soccer. He had a game Friday night and Sunday morning. Since we were going to have all Saturday with no games, we decided to stay about an hour away from the fields at Joe Wheeler State Park in the Lodge. Nice, large rooms with beautiful views of the lake. If you're looking for a pristine place to stay I would not recommend this place. Although, it was nice and fine for us, someone who is looking for super clean won't be happy. Since it is a State park, they don't have the staff to keep all the bird droppings up or spiderwebs brushed away. We really liked it there and weren't bothered by these things. It was quite peaceful and the view of the lake is gorgeous.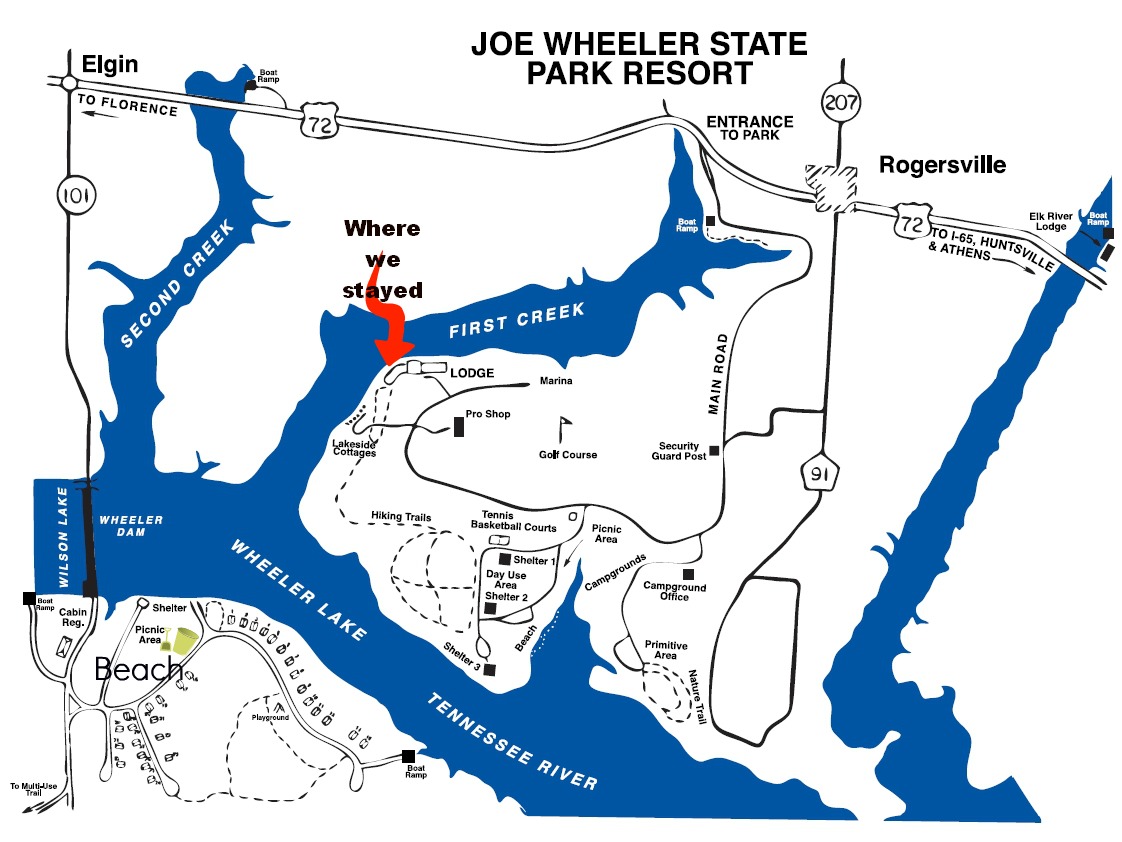 Saturday morning we ate breakfast at the hotel restaurant and then walked around the lake and over to the marina.

The lake is clean and calm. Not a ton of boat traffic. Then we headed out for gas and water. On a whim we decided to go find the Amish community not far from us, up in Tennessee. Read about that adventure
here
.
This theater is Lawrenceberg where we were trying to hunt down the Visitor Center.

Cute little shop across the street.

After getting back from that escapade, we took a look at the beach area on Joe Wheeler Lake. It was pretty crowded and people were smoking like there was no tomorrow, so we drove back to the lodge and went swimming in the pool.

As the day progressed we saw the hustle and bustle of people getting ready for a wedding. Before getting into the pool, I noticed the photographers were there and the bride and groom had their "first look." I was equipped with my zoom lens, so I took a few shots from way across on the other side of the pool. They were so cute. Here you see the bride putting her hand on her soon to be husband's shoulder, right before he turns around to see her for the first time dressed so elegantly in her wedding dress.

After a couple hours in the pool, we went back up to our room to change and Drew and Rob followed the Auburn Baseball game online for a few minutes. I asked Alex to be my model…
We decided to ride over to Florence, AL to find some place to eat. We ended up stopping at Crocodile Ed's.

I enjoyed the Fish Tacos. Rob had the Red Beans and Rice topped with Grilled Shrimp. He didn't care for it because there was 6 shrimp on a huge bowl of Red Beans and Rice, which the beans were basically pinto bean with a few kidney beans sitting on a bed of plain white rice. He wasn't pleased with what he ordered at all.
Alex got the Popcorn Shrimp on the Kid's Menu, which by the way was not what you normally think of when it comes to Popcorn shrimp. Although, these were hand-breaded medium sized shrimp with the tails removed. Still delicious. The side he chose was Green Beans, which were fresh, which really have a different taste than canned or frozen green beans. He didn't care for them much.
Drew had the Sirloin, which came out way overcooked, so they cooked another one and it was much better.
After dinner we relaxed in our room. I went for a stroll to see if the wedding reception was still going. They were dancing the night away and I experimented with long exposure pics. Here's my favorite one:
Sunday we ate breakfast at the hotel again and raced over to the fields after packing up our room and loading the car. Here's Drew at Statecup. See more pics here.

More pics from the weekend here.