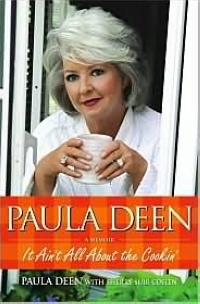 Paula Deen: It Ain't All About the Cookin'
In Paula Deen's book, It Ain't All About the Cookin', she holds nothing back. I adore her candidness. I'll start off by warning you that if you think of Paula Deen as "a flawless southern woman," then this book is not for you. She sugarcoats nothing, which I really appreciated. She starts off by dropping a 'small' bombshell and for those of you who may read it, I won't ruin it for you. For me, it was something I had suspected from her, but really I shouldn't let it bother me. A few foul words here and there. Not overwhelming or anything that gets in the way of the read. She paints a picture of the struggles throughout her life and all of the hard work she and her sons put into getting where they are today.
You may read other reviews of this book, that chastise her for mistakes she made, but like I tell myself, "If you don't like what you're reading, then STOP!" Frankly, I couldn't put this book down. Now granted, I'm a huge Food Network fan and Paula Deen is one of my favorite chefs on that channel. Truthfully, I enjoy books like this that allow you to step into the past of the author/subject. I respect Paula for her persistence and tenacity for figuring out what she wanted in life and pursuing her dreams.
As a bonus throughout the chapters, Paula shares about 20 recipes. I'm anxious to try the Chocolate-Dippy Doughnuts, Mrs. Groover's Banana Nut Delight Cake, and her Biscuits and Sawmill Gravy, yall!