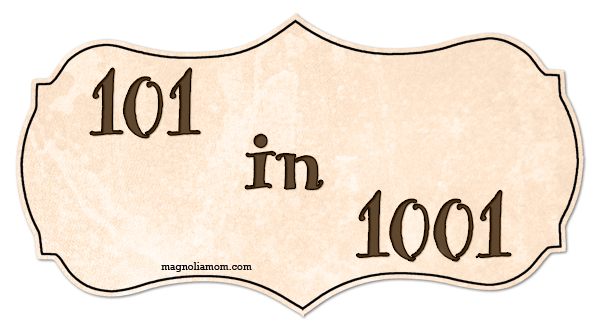 Over the years I've seen various other bloggers work towards completing 101 tasks in 1001 days. Although, I already have a bucket list, many of the tasks on my bucket list are things I'm sure I'll never do in my life time. However with this 101 in 1001, I've tried to think of tasks/goals that are achievable in this time frame.
Start date: Friday, February 18, 2011
End date: Friday, November 15, 2013
I would encourage you to make each day count and maybe making a list like this will give you a little motivation. If you decide to do it, I would love to come read your list, so leave a comment and I'll come by and visit. You can use this calculator to help you with the date!

Give Back
1. Donate blood (4/21/11)
2. Provide a meal for a family in need (6/2011)
3. Make someone's day (in a good way) (3/31/11)
4. Put change in someone's expired parking meter (2/6/2012)
5. Work at my church's food pantry (12/2012)
6. Send a care package to one of the individuals (drawn at random) who comments on this blog
7. Host a blog giveaway (3/2013)
8. Donate to Locks of Love
9. Leave a note in a library book for someone to find one day (Did 3) 3/16/2011
10. Make 10 bookmarks and give 5 away
11. Make 10 beaded key rings and give 5 away
12. Adopt a Soldier (2011)
13. Send a care package to a soldier through Any Soldier 10/2011
14. Sponsor someone for the Walk to Emmaus (1/25/2012)
15. Take portraits of my Mom
16. Take portraits of a more distant relative
17. Do something nice for one of the student workers that I work with
18. Take senior (college) portraits for an Auburn student for free
19. Make something yummy and bring it to work to share (many times)
Just for Fun
20. Go on a picnic 7/3/2011
21. Go watch LaCrosse
22. Ride a horse
23. Feed ducks
24. Hand write a letter to myself to open in 10 years
25. Join a book club
26. Host a party
27. Dress up for Halloween (10/2011)
28. Answer the "50 Questions That Will Free Your Mind" (5/23/2011)
29. Watch Casa Blanca
30. Watch Gone with the Wind
31. Make a family recipe book
32. Distribute family recipe book to people who want it
33. Get a pedicure
34. Plan a Mom's night out
35. Listen to a book on CD
36. Get a house plant and keep it alive (got the plant sometime in 2011 and it's still alive as of 2/9/2012)
37. Go to a drive-in movie theater 7/3/2011
38. Send 5 birthday cards to family and friends
39. Choose an author and read all the books by him/her
40. Start and complete one of the journals by Keri Smith
41. Re-read a book from childhood
42. Document what happened on 11/11/11 and 12/12/12 (didn't happen)
Because I Love Lists
43. Make a list of the 100 best experiences of my life
44. Write a list of 101 things I've already achieved in this lifetime
45. Make a list of my top 50 movies (March 29, 2011)
For the Love of It
46. Have a candlelit dinner at home
47. Surprise Rob with something special
48. Get dressed up and go out on an elegant date with Rob
49. Take a dance class with Rob
Widen my Photography Horizons
50. Order one of my prints on canvas
51. Make a purse into a camera bag
52. Complete a 365 day photo challenge
53. Photograph a wedding (9/18/2012 & 1/6/2012)
New Things in the Kitchen
54. Make homemade ice cream
55. Grow herbs and use them in my recipes
56. Complete 5 recipes from my 100 Recipes to Make List
57. Learn how to make jelly/jam
58. Cook 1 recipe from every cookbook I own
59. Make one of the pops from my Bakerella cookbook
A Healthier/Happier/Better Me
60. Attend the Walk to Emmaus 3/2-5/2011
61. Don't log into facebook for a whole week! (3/2012)
62. Go 3 days without eating meat
63. Eat at least one vegetable (besides corn) each day for at least 1 month
64. Drink 32 oz of water everyday for at least 1 month
65. Make a new friend and talk to them once a month for at least a year
66. Don't use internet for a week
67. No Diet Coke (or any other soda) for a month 6/2013
68. Walk Daisy every day for at least a week
69. No fast food for a month
70. Go 5 days without wearing a T-shirt (4/30/2011)
71. Complete the Couch to 5K
72. Complete the 200 Sit Ups program
73. Complete the 100 Push Ups program
74. Eat at the table as a family once a week for a month (would like to do this more, but I'm not home at dinner on the week nights)
75. Lose 20 lbs. and keep it off for at least 6 months (I need to lose much more, but it's better than nothing)
76. Have fish for dinner 1 day a week for a month
77. Make 5 make ahead meals (2013)
78. Make bread/dough for us to eat for an entire month and NOT purchase any bread from the store
79. Try making my own shampoo and use homemade shampoo and blog about results
80. Memorize 10 bible verses
Visit another church 6/26/2011
Clean Up
81. Hang up shadow box
82. Find a way to display Great Great's dog collection
83. Clean out the 2 "junk" drawers in the house
84. Clean out and organize the armoire 6/14/2011
85. Find an old piece of furniture and refinish it
86. Finish organizing and cleaning the office
87. Keep bedroom clean for at least 1 month
88. No piles of anything, anywhere for at least 1 month
89. Keep bar cleaned off for at least 1 month
90. Keep island cleaned off for at least 1 month
91. Keep entry way table cleaned off for at least 1 month
Things I Should have already done
92. Frame Mike Bianucci's autographed gloves in a shadow box with a picture for Teenager and give it to him as a gift
93. Get a passport
94. Start a family devotional time and continue for at least 6 months
95. Finish scanning & organizing old family photos
96. Send old pics to family members who would want them
97. Burn DVDs of photos and distribute to family
98. Get a full-time permanent job (6/19/2011)
99. Purchase a fireproof box and move important documents into it
100. Write our wills and living testaments
101. Get the piano moved to our house (a little late…December 31, 2013)
Some of my fav other 101 in 1001 lists:
The Sunset Won't
lianasbananas
Mission 101