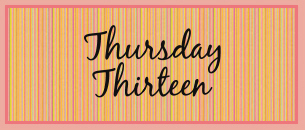 Thirteen Things about 2006


1. Drew had his first sleep over party for his 8th birthday.
2. My Dad came to visit.
3. Drew joined the Cub Scouts.
4. I got a new camera, a Canon Rebel.
5. Alex turned 2!
6. We went on 2 family campouts. My first time to sleep in a tent since my toddlerhood.
7. Drew caught a snake (and it bit him!)
8. My kids were Darth Vader and Elmo for Halloween.
9. My favorite Christmas gift was all the books I received.
10. I became an aunt, with a new nephew and a new niece!
11. We put our house up for sale.
12. We spent Thanksgiving in Spring Hill, FL.
13. We got a new 30-something inch flat screen TV!

Links to other Thursday Thirteens!
1. (leave your link in comments, I'll add you here!)
Get the Thursday Thirteen code here!
The purpose of the meme is to get to know everyone who participates a little bit better every Thursday. Visiting fellow Thirteeners is encouraged! If you participate, leave the link to your Thirteen in others comments. It's easy, and fun! Be sure to update your Thirteen with links that are left for you, as well! I will link to everyone who participates and leaves a link to their 13 things. Trackbacks, pings, comment links accepted!
View More Thursday Thirteen Participants